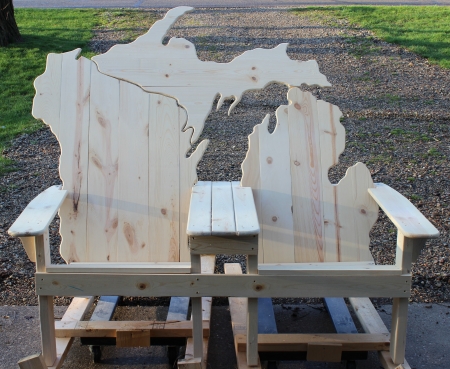 Click on Image(s) to Zoom
Item Description
Two people can sit back and relax with our bench style Adirondack Chairs with a small table in the middle. Show off Lake Michigan states of Wisconsin and Michigan along with the Upper Peninsula from Picwood USA. This chair is made from sanded 80 grit all natural white pine wood and features the State of Michigan and Wisconsin back along with the UP of Michigan with the classic Adirondack seat design. It's perfect for any garden path, patio, porch, or deck and adds stylish seating to your outdoor decor. 
Please allow 10 to 14 days for this item - it is made to order, not kept in stock.
*NOTE: If shipping outside of Michigan, there may be an additional handling fee due to weight and size. Contact our Customer Service Department and provide the "ship to" zip code. Or you may go ahead and place your order and we'll email you an invoice if additional shipping charges apply.
CONTACT US if you are wishing to have this item polyurethaned. Polyurethaning is done outside and needs to be done in sunny and low humdity conditions. With Michigan weather it's not always easy to do.
We use #2 Grade White Pine Wood. It comes with flaws, however, we try to catch the flaws but we are human and we do miss some.Our products, they are all natural white pine wood and are sold "All Natural" unless otherwise stated (They are not stained, treated, polyurethaned, or painted).We will SPAR Polyurethane & apply exterior gloss paint during the the late spring (Late May), summer, and early fall months ONLY (Early October). If we do your polyurethane/paint there is an additional charge for this service and can add up to 2 weeks onto your order. We apply a sealer then two coats of paint. The colors are: Blue, Green, Purple, Red, Yellow, White.We suggest you go to your local lumber store and buy some SPAR polyurethane for the outside weather conditions for your area. SPAR Polyurethane is known to leave a"Yellowish" tint to White Pine Wood and should be applied once a year thereafter for best results.
There is a NO RETURN/NO REFUND on our products, please make sure what you order is what you want.
Prices Subject To Change Without Notice.
Assembly Required
 Wooden Outdoor Furniture Care and Maintenance
The natural wood outdoor furniture when exposed to an environment with substantial temperature changes (moisture, sun and salt air) can change over time. It is not uncommon and users should expect some swelling, discoloration or possible surface cracks due to the outside exposure and changes in the weather. These are considered natural occurrences of wood and should not be considered as a product defect. To prolong the life of your item you should consider placing under a covered area. Our umbrella holder cannot handle strong or gusty winds. It is recommended to remove the umbrella when not in use or in diverse weather conditions.​
About Picwood USA Living
Picwood USA Living builds catalog-quality furniture in traditional styles at a price that actually makes sense. By listening to our customer, we build beautiful pieces worthy of your home. Attention to detail, and stylish lines that tie everything together are some of the hallmarks of a Picwood USA Living piece, there's something from an incredible Picwood USA collection perfect for your style.
COPYRIGHT NOTICE 2016 – PICWOOD USA
 All items listed for sale on this website, in printed material, built is copyrighted by Picwood USA, L.L.C. or the owner of the design. Any copying, designing (in whole or in part), making (manufacturing), production of our products is strictly prohibited and will not be tolerated. Federal law provides severe civil and criminal penalties for the unauthorized use of copyrighted works, including designs, making (manufacturing), production of our products.

Handmade Michigan is a marketplace for the Michigan artists, craftsmen, crafters, and creative people, enabling them to fulfill their commerce dreams. We've created a unique, segmented venue for these artisans to showcase and sells their goods. Quickly evolving, our community of "Made in Michigan" sellers continue to dazzle us with their creativity, passion, and love of everything handmade. Does this sound a place for you? Get started selling with Handmade Michigan by registering today.
Other items you may be like...