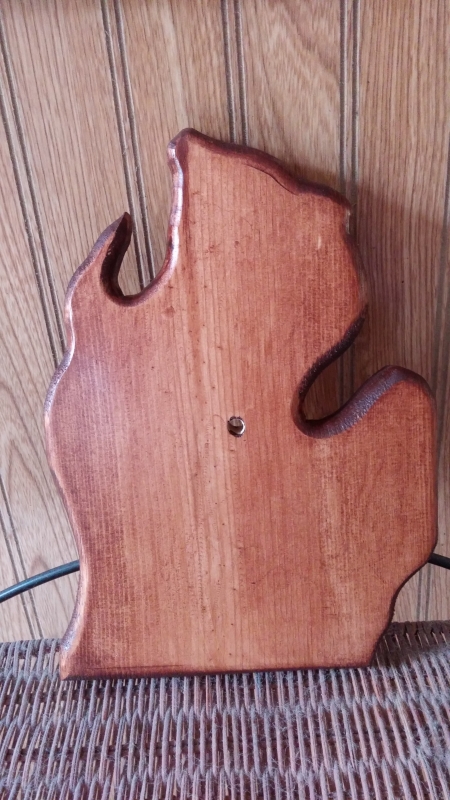 Click on Image(s) to Zoom
Item Description
Our very own Picwood USA copyrighted decorative wall clock. We use 3/4" white pine wood and come unfinished so you can finish them off with your choice of stain or get a coat of lacquer applied by us. Some Assembly Required 
Our Clock Kit comes with the quartz clock movements, minute, hour, second hands; and self-adhesive numerals set. Set of instructions, all boxed in a white shipping box. Measures 10"H x 7-1/2"W x 1-1/2"D 
Please allow 7 to 10 days for delivery for this item - it is made to order, not kept in stock.
Staining, we stain in American Dark Walnut, Cherry, Summer Oak
*NOTE: If shipping outside of Michigan, there may be an additional handling fee due to weight and size. Contact our Customer Service Department and provide the "ship to" zip code. Or you may go ahead and place your order and we'll email you an invoice if additional shipping charges apply.
 We use #2 Grade White Pine Wood. It comes with flaws, however, we try to catch the flaws but we are human and we do miss some.
  All our products are sold "All Natural" unless otherwise stated.
 Staining of Clocks may add up to seven (7) days to your order.
  There is a NO RETURN/NO REFUND on our products, please make sure what you order is what you want. Prices Subject To Change Without Notice.
COPYRIGHT NOTICE 2016 – PICWOOD USA
 All items listed for sale on this website, in printed material, built is copyrighted by Picwood USA, L.L.C. or the owner of the design. Any copying, designing (in whole or in part), making (manufacturing), production of our products is strictly prohibited and will not be tolerated. Federal law provides severe civil and criminal penalties for the unauthorized use of copyrighted works, including designs, making (manufacturing), production of our products.

Handmade Michigan is a marketplace for the Michigan artists, craftsmen, crafters, and creative people, enabling them to fulfill their commerce dreams. We've created a unique, segmented venue for these artisans to showcase and sells their goods. Quickly evolving, our community of "Made in Michigan" sellers continue to dazzle us with their creativity, passion, and love of everything handmade. Does this sound a place for you? Get started selling with Handmade Michigan by registering today.
Other items you may be like...