Honeysuckle Sea Salt Body Scrub 10oz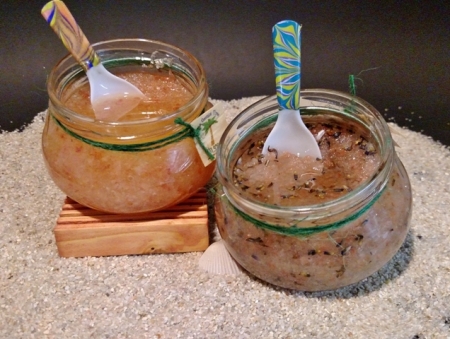 Click on Image(s) to Zoom
Item Description
The natural salts in these scrubs help to maintain soft skin. Each jar has Coconut oil, Almond, Avocado and Sunflower Oils, along with Himalayan Pink Sea Salt and Dead Sea Salt. Honeysuckle essential oil is added to this jar and the scent is sure to stay with you for wonderful compliments.
Directions: Easy to use scoop/spoon is included in this sale. The jar is 10oz. Wash body first then just use the scoop to gather what you want and firmly scrub the area of desire. (Do Not Use on face. I have sugar scrubs available for that gentle area.) Rinse with as warm of water as possible, pat dry.
COCONUT OIL: Protects & heals skin starting from the inside. Is antibacterial/antimicrobial and helps combats signs of aging. Easily absorbs into the skin. Helps put a stop to bacterial infections including ringworm & athlete's foot.
AVOCADO OIL: Rich in Vitamin A, B1, B2, B5, D and E with Beta-carotene, minerals, proteins, lecithin. Benefits dry flaky skin, sensitive skin, psoriasis, eczema, sun-damaged, age spots and scars. Penetrates to boost collagen production and smooths skin.
ALMOND OIL: Contains protein, vitamin E and B vitamins, as well as essential minerals, healthy fats and protein.
SUNFLOWER OIL: An excellent source for beta-carotene, a richly pigmented, fat-soluble compound found in certain fruits, vegetables, grains and oils.

Handmade Michigan is a marketplace for the Michigan artists, craftsmen, crafters, and creative people, enabling them to fulfill their commerce dreams. We've created a unique, segmented venue for these artisans to showcase and sells their goods. Quickly evolving, our community of "Made in Michigan" sellers continue to dazzle us with their creativity, passion, and love of everything handmade. Does this sound a place for you? Get started selling with Handmade Michigan by registering today.
Other items you may be like...