Anakins Protector 5oz Bar Soap Natural Soap Handmade Soap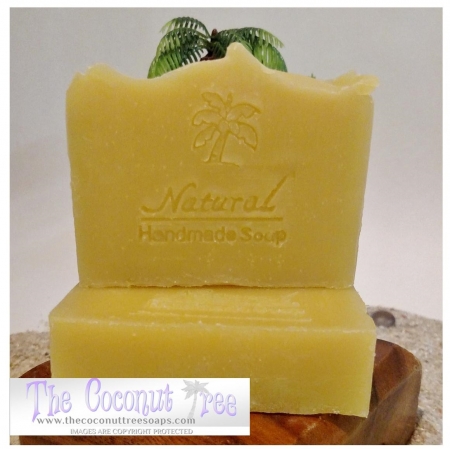 Click on Image(s) to Zoom
Item Description
DESCRIPTION/USES:
This soap contains various essential oils blended together that may help boost immunity levels while helping to combat viruses and bacteria. Anyone Can Use This!  . There are no colors in this soap.
Anakin is my grandson. He has Krabbe's Disease.  His immune system is completely compromised. If he catches the common cold, this could kill him. This essential oil combination was developed back in the 1400's when people were dead or dying from the Plague and then robbed of their material possessions from others. The "thieves" developed this combination of essential oils and rubbed it all over their bodies. They were then able to rob from the sick without getting sick themselves. I also have an Anakin's Protector Cream.
INGREDIENTS:
Coconut oil, Olive oil, Avocado oil, Palm oil & Castor oil, Shea Butter and Cocoa Butter, Brown 
Clove essential oil, lemon essential oil, rosemary essential oil, eucalyptus essential oil, cinnamon essential oil. No Color
BAR INFORMATION:
Size: 3.5" x 3" x 1"
Approx Weight: 4-.5 - 5.5oz
Colors (If applicable): Mica
Scents: Essential Oils and/or Body Safe Fragrance
Join us on Facebook for updated information and coupons!
PLEASE NOTE:
*Handmade soap will last a long time if kept dry between uses. Please use a draining soap dish and keep it away from direct streams of water.
*The images are for reference only. Products are made by hand using natural ingredients. Please allow for color differences in your finished products.
INGREDIENT BENEFITS:
COCONUT OIL: Protects & heals skin starting from the inside. Is an antibacterial /antimicrobial. Combats signs of aging. Easily absorbs into the skin. Helps put a stop to bacterial infections including ringworm & athlete's foot.
COCOA BUTTER: Moisturizer, Full of Vitamin A, E, & C, Natural antioxidant, frequently used for treating dry skin and stretch marks, beneficial treatment for chapped hands, feet, lips and other skin irritations. Does not contain petroleum, preservatives or harsh chemicals.
SHEA BUTTER: Mild enough for babies, natural UV protection, helps fight acne, eczema, dermatitis, and psoriasis. Helps to fade scars. Soothes burns, fights wrinkles, and contains large amts of Vitamin A and E. Helps to rebuild damaged skin cells.
OLIVE OIL: Rich in Vitamin E & beta carotene and is an antioxidant. Stimulates new cell generations and slows progression of wrinkles. It is a great anti-inflammatory for rashes, abrasions sunburn, eczema and psoriasis. Will not clog pores.
AVOCADO OIL: Rich in Vitamin A, B1, B2, B5, D and E with Beta-carotene, minerals, proteins, lecithin. Benefits dry flaky skin, sensitive skin, psoriasis, eczema, sun-damaged, age spots and scars. Penetrates to boost collagen production and smoothes out skin.
ALMOND OIL: Contains protein, vitamin E and B vitamins, as well as essential minerals, healthy fats and protein.
SUNFLOWER OIL: An excellent source for beta-carotene, a richly pigmented, fat-soluble compound found in certain fruits, vegetables, grains and oils.
CASTOR OIL: Protective barrier to skin which is perfect for harsh weather. Works to inhibit many viruses and bacteria found in acne lesions. Great for cold sores, herpes or shingles by soothing the pain. Also thickens eyelashes and eye brows!

Handmade Michigan is a marketplace for the Michigan artists, craftsmen, crafters, and creative people, enabling them to fulfill their commerce dreams. We've created a unique, segmented venue for these artisans to showcase and sells their goods. Quickly evolving, our community of "Made in Michigan" sellers continue to dazzle us with their creativity, passion, and love of everything handmade. Does this sound a place for you? Get started selling with Handmade Michigan by registering today.
Other items you may be like...