Rose Gold Pearl Necklace Pearl Pendant Necklace Bridesmaid Jewelry Wedding Jewelry Statement Nec
Item Description
Beautiful rose gold chain with Swarovski single pearls. Rose gold chain, rose gold pendant, Pearl pendant, pearl earrings, rose gold earrings. Beautiful rose gold chain that measures 18 inches (only size i have) swarovski pearls on beautiful rose gold pendants. The white is not a pure white more of a bridal white. 10 mm swarovski pearls.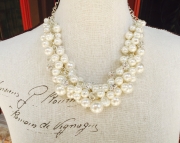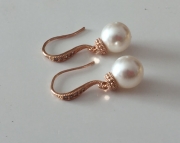 Handmade Michigan is a marketplace for the Michigan artists, craftsmen, crafters, and creative people, enabling them to fulfill their commerce dreams. We've created a unique, segmented venue for these artisans to showcase and sells their goods. Quickly evolving, our community of "Made in Michigan" sellers continue to dazzle us with their creativity, passion, and love of everything handmade. Does this sound a place for you? Get started selling with Handmade Michigan by registering today.
Other items you may be like...