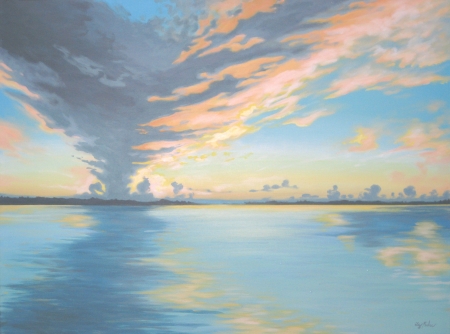 Click on Image(s) to Zoom
Item Description
I use the sunrise as a symbol of hope for the future, a reminder of the beauty of life and its gifts which endlessly renew themselves. It represents Gods "grace for grace", blessing upon blessing, and His overflowing favor. The sea also is of special importance for me and I prefer it over the landscape. There is no precise vanishing point in the sea, the entire horizon extends forever. The physical and the spiritual seem to express their mutual acquiescence to the others dominion, in perfect harmony and cooperation. The tangible world vanishes into the eternal.
Acrylic painting, Canvas
One of a kind artwork
Size: 40 × 30 × 0.5 in (unframed)
This artwork is sold unframed
Signed on the front
Ready to hang

Handmade Michigan is a marketplace for the Michigan artists, craftsmen, crafters, and creative people, enabling them to fulfill their commerce dreams. We've created a unique, segmented venue for these artisans to showcase and sells their goods. Quickly evolving, our community of "Made in Michigan" sellers continue to dazzle us with their creativity, passion, and love of everything handmade. Does this sound a place for you? Get started selling with Handmade Michigan by registering today.
Other items you may be like...