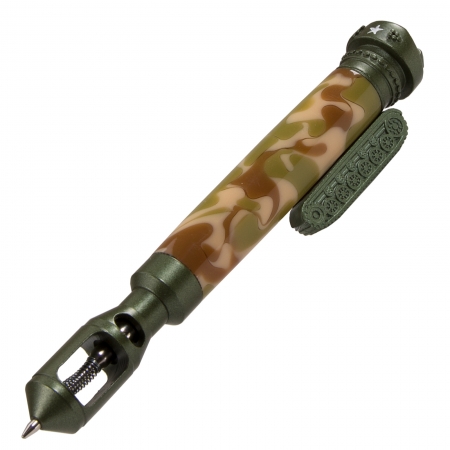 Click on Image(s) to Zoom
Item Description
This is a pre order sale Celebrate the honor and strength of the US Military with the Tank Pen. Inspired from various American Military tanks, the individual details of the pen create stylistic authenticity in homage to these tank; the pen cap, cast in brass, features two classic 5-point white military stars, celebrates the unique rounded-form of the a M26 turret and includes details like the commanders cupola and grenade launchers. The machined metal pen tip is modeled after the tank guns muzzle brake. Twist the pen to shoot out your pens refill. The clip depicts the significant moving-parts on a real tank tread: such as a track-drive sprocket and suspension bogies. The pen comfortably rests on its tread when not in use for a cool presentation.Smooth writing with a Parker style refill. The pen has a bit of heft to it at 4oz to mimic the feel of a real battle tank. Overall Length: 5-9/16 inches. An acrylic barrel in a woodland camouflage. If you wish a wood or different color acrylic there will be a delay in creating your treasure.
Pen will arrive in gift box and a pen stand to show off your prized pen. Please understand that it will take approx. 9 weeks to produce and send to you. Overseas shipping will take additional time.

Handmade Michigan is a marketplace for the Michigan artists, craftsmen, crafters, and creative people, enabling them to fulfill their commerce dreams. We've created a unique, segmented venue for these artisans to showcase and sells their goods. Quickly evolving, our community of "Made in Michigan" sellers continue to dazzle us with their creativity, passion, and love of everything handmade. Does this sound a place for you? Get started selling with Handmade Michigan by registering today.
Other items you may be like...