Eagle Freedom Leather Belt Bag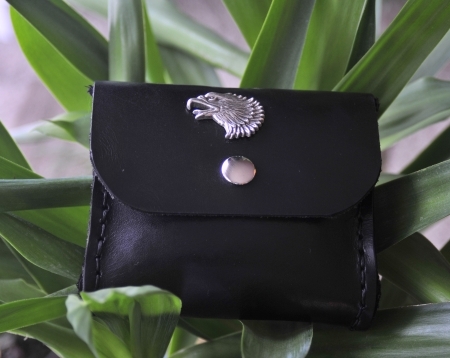 Click on Image(s) to Zoom
Item Description
This Benchmark Leather Works 'Belt Bag' is for the "Born To Be Wild" type. The perfect, small item satchel, must have, when on the open road. Hand dyed in bad boy, or girl for that matter, black, and adorned with a solid antique nickel finish American Bald Eagle head, with its keen eye watching out over the road ahead of you while this belt bag is strapped to your side. Nickel finish hardware provide secure closure.  5" x 4-1/2" x 1-1/2" (3.8 cm).
*Also available upon request, hand dyed in Tan, Dark Brown & Light Brown. Hand stitched in White, Black, Dark Brown or faux Sinew. Closure Hardware; Brass or Nickel finish.

Handmade Michigan is a marketplace for the Michigan artists, craftsmen, crafters, and creative people, enabling them to fulfill their commerce dreams. We've created a unique, segmented venue for these artisans to showcase and sells their goods. Quickly evolving, our community of "Made in Michigan" sellers continue to dazzle us with their creativity, passion, and love of everything handmade. Does this sound a place for you? Get started selling with Handmade Michigan by registering today.
Other items you may be like...