Leland Blue Stone and Sterling Dangle Earrings
Item Description
Wear a little bit of Michigan! These wonderful earrings are made with Leland Blue Stones. They're not really stones at all, but rather pieces of slag glass that have washed ashore on the beaches of Northwest Lower Michigan. Remnants of the smelting process in the 1800's, pieces of these wonderfully colored slag wash ashore and are prized by collectors. No two are ever the same, and all show unique characteristics.

Deliciously wrapped in sterling silver, the Leland Blue Stones dangle from a pair of my hand made ear wires, made in sterling silver. The sterling silver has all been given a nice patina, and then hand buffed to bring back the shine, leaving bits of the patina in the deep recesses. What a pretty look. 

The earrings are almost exactly 1 1/2 inches in length from the lobe.

These are one of a kind earrings, celebrating a one of a kind place. 

As always, my earrings will come lovingly packaged in a hand made cloth pouch, perfect for gifting or for carrying your treasures with you when you travel. Enjoy!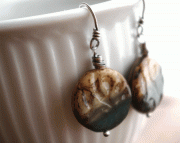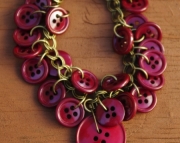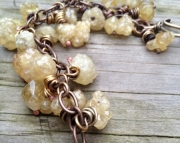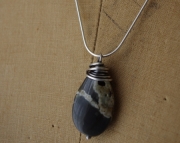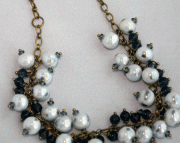 Handmade Michigan is a marketplace for the Michigan artists, craftsmen, crafters, and creative people, enabling them to fulfill their commerce dreams. We've created a unique, segmented venue for these artisans to showcase and sells their goods. Quickly evolving, our community of "Made in Michigan" sellers continue to dazzle us with their creativity, passion, and love of everything handmade. Does this sound a place for you? Get started selling with Handmade Michigan by registering today.
Other items you may be like...