My Mother was an artist and my Grandmother was a seamstress so I inherited a combination of talent from two exceptional women. It's what I've always loved to do, ever since I was 6 years old.......create.
I've been creating my bulletin boards and push pins since March of 1990. Each year I try and come up with several new original designs along with the... more »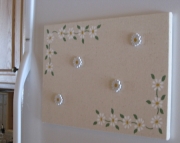 Handmade Michigan is a marketplace for the Michigan artists, craftsmen, crafters, and creative people, enabling them to fulfill their commerce dreams. We've created a unique, segmented venue for these artisans to showcase and sells their goods. Quickly evolving, our community of "Made in Michigan" sellers continue to dazzle us with their creativity, passion, and love of everything handmade. Does this sound a place for you? Get started selling with Handmade Michigan by registering today.